It's our 5th Anniversary!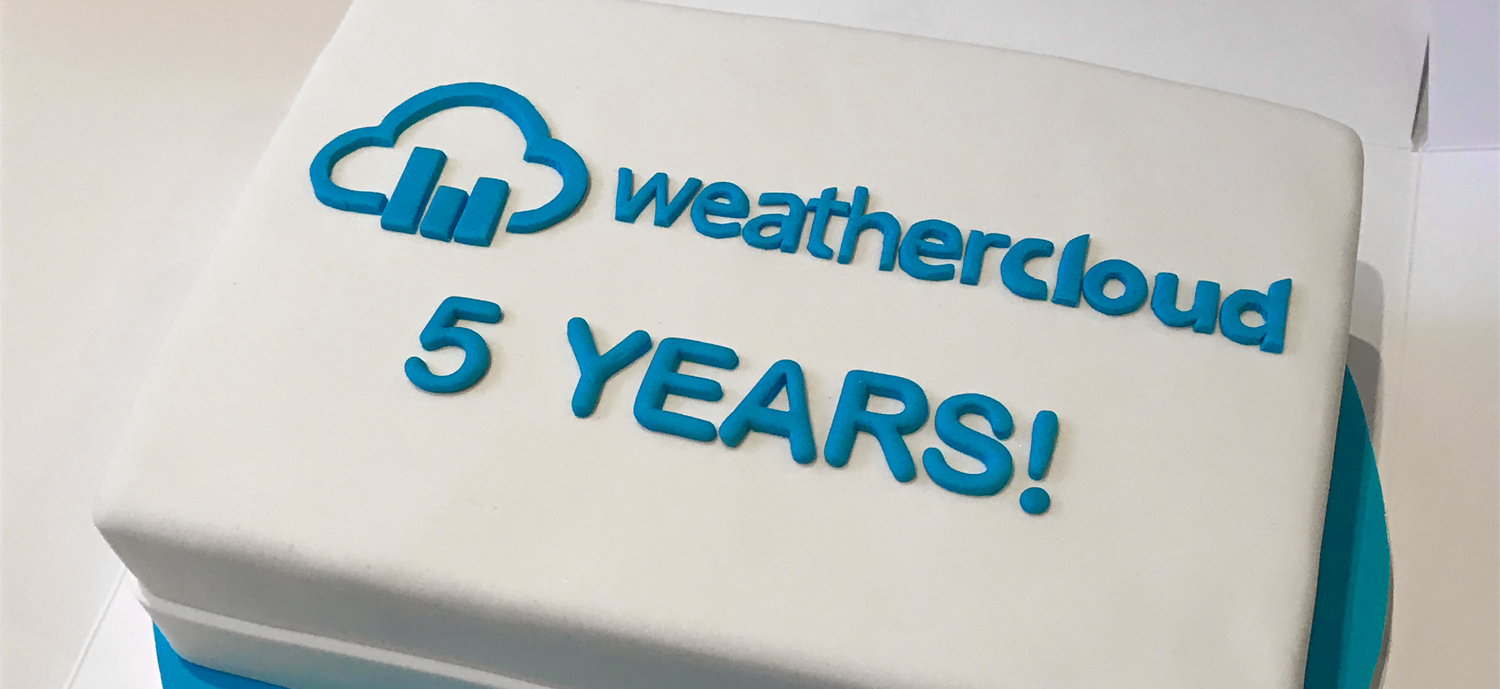 5 years… and another cake!
On February 28 we celebrated our 5th anniversary with some delicious tapas and a nice corporate cake (of course, we're saving you a slice). So, what better time to look back and see how far we've come, right? In this blog post we are happy to take you through some of our achievements and future plans. Let's get started!
First of all, as you may have noticed from our weather map, Weathercloud has grown a whole lot since we launched it in 2014. We still remember our excitement when the first stations began to pop here and there on the map. Now, only in the last 10 months the number of online devices has doubled, going from 11,000 to currently more than 22,000. This rapid growth has been thrilling, but at the same time, a great engineering challenge for our small team of developers. Some core aspects of the Weathercloud engine had to be rethought and improved in order to accommodate an ever-growing number of devices. And, believe us, there was a huge amount of work to be done. Actually, we continue striving to ensure everything runs smoothly, and we are happy to tell you that further performance enhancements are just around the corner.
Here are some figures to give you an insight of the current scale of the network:
> 22,000 online stations
> 15 billion database records
> 36,000 registered users
> 13.000 automated daily tweets
Of course, the above figures wouldn't be possible if Weathercloud wasn't compatible with over 20 third-party weather software for Windows, Mac, Linux, iOS and Android, and with more than 40 weather station models from leading manufacturers. Currently, most weather station owners have a way to upload their data to the platform, and we are working along with some more manufacturers to help them integrate Weathercloud. Also, we are excited to see that great DIY projects for uploading data to the platform are starting to be shared online on forums and sites dedicated to step-by-step collaboration.
Some more interesting figures. Our users come from 124 countries, with the top 5 being the United States, Germany, Spain, Australia and The Netherlands. Also, Weathercloud has already been fully translated into 10 languages, with Polish being the latest addition. These are important achievements for us, and we want to thank our contributors for their invaluable help.
The latest big update of Weathercloud is Beta 7, which we released on November 2018 with an all-new weather map as the main feature. We were very excited to launch the new map since it introduced an entirely different approach with respect to the previous versions. We switched to OpenStreetMap, removed the clusters (groups of 2 or more stations) and added an all-new sidebox, along with many significant improvements in usability and speed that are key for the launch of the upcoming mobile app, since we are committed to offering you the best possible experience from the beginning. The main goal of the app is to help you monitor all the weather conditions reported by your device very easily at a glance, from anywhere and from any device. Additionally, you will be able to explore your surroundings to find nearby devices that will provide the current conditions right at your location. We are incredibly excited with this and we are working hard to make it happen the sooner possible.
Finally, we invite you to subscribe to our newsletter if you haven't already done so. This way we will be able to keep you up to date on our latest developments and events. You can subscribe at any time either from our homepage or from your Settings page once logged in. Also, don't forget to follow us on Facebook and Twitter for updates.
That's all for now guys. A big thanks to all of you for being the most important part of Weathercloud.
Cheers!