Support for Cumulus, New Features and Enhanced Performance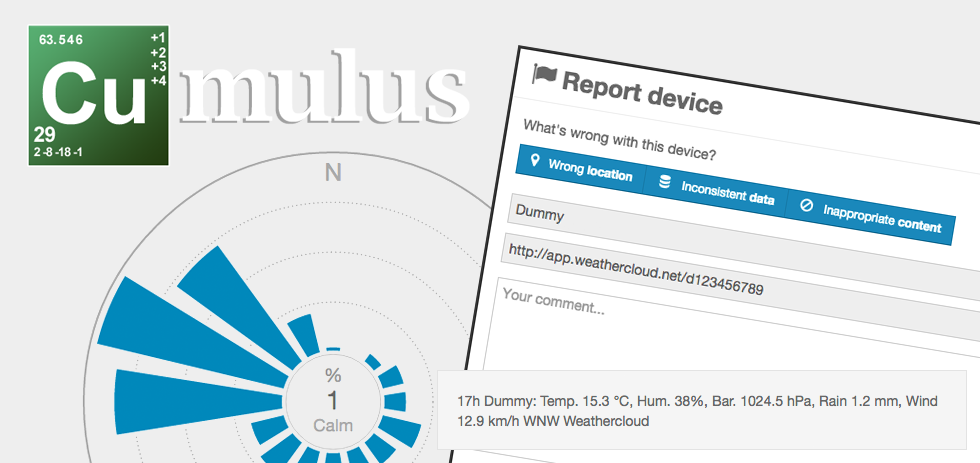 We're so pleased to announce support for Cumulus and the addition of several new features and performance improvements! Read on to find out what's new in this update:
Support for Cumulus
Weathercloud is now compatible with Cumulus, the popular free weather station software developed by Sandaysoft. This has been one of the top requests from the very beginning, and we're happy to finally bring it to you. The connection to Weathercloud is made via a small add-on that you can download from here. We want to thank Adrian Hudson for this great contribution.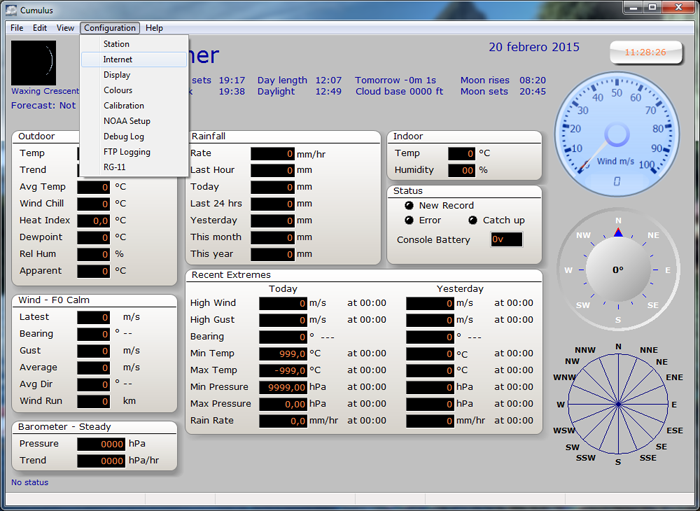 New Features in this Version
Calm Wind Condition

From now on, a wind speed of 0 is considered 'calm' with no direction associated. Therefore, the value is no longer taken into account when calculating the prevailing directions in our wind distribution diagram.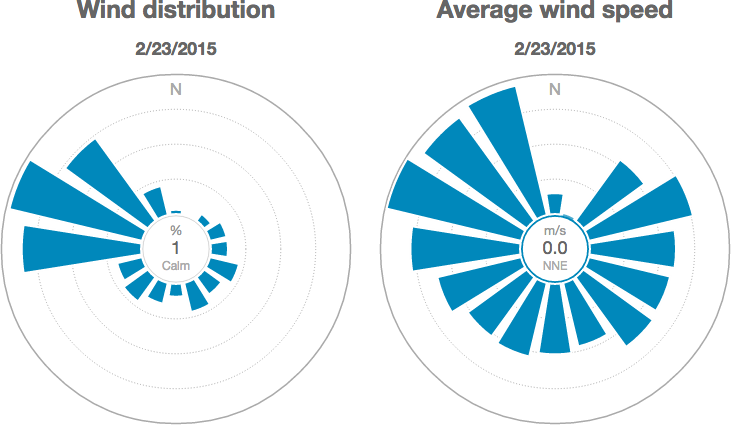 Ability to Report Devices

With this new feature, you can easily let us know whenever you spot a device misplaced on the map, sending inconsistent data or displaying inappropriate content. Just click on the new flag icon at the bottom right corner of the screen and we'll be aware of the issue instantly. Your help is greatly appreciated, as the ever-growing number of devices makes it almost impossible for us to check each and every one of them.
Automatic Latitude, Longitude and Altitude
Up until now, you could place your device on the map in two different ways: by clicking on 'Get coordinates' to navigate through the map, or by entering the latitude and longitude manually. After this update, though, the manual input of coordinates is no longer available in order to reduce the presence of misplaced devices. This means that 'Get coordinates' is now the sole way to both place a new device on the map and relocate an already existing one. The latitude, longitude and altitude are provided automatically, so you just need to enter the height of your device. Be sure to check our FAQ to learn about the difference between altitude and height.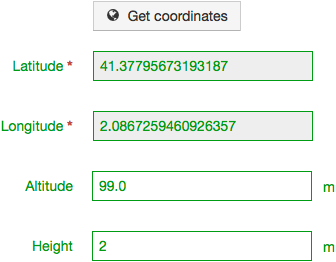 Shortened URL for User Profiles

You can now view the profile page of any Weathercloud member by just typing app.weathercloud.net/@username in the address bar of your browser. This shortened URL won't only save you time, but will also look great when you share it with relatives and friends.

Better Looking Automatic Tweets

We've made a slight change in the way the automatic tweets are displayed. As you can see below, the wind speed and direction values now appear next to each other under 'Wind', instead of being separated as before in 'W. Spd.' and 'W. Dir.'. With this change, we save some characters in the tweets and can fully display even longer device names.
Broken Link Indicator for Weather Webcam

The picture below is now displayed instead of your browser's default 'broken image' icon if you introduce an invalid URL for your webcam. If this is the case, make sure to fix the link by going to the 'Devices' page and clicking on 'Edit device' in the drop-down menu (the gear icon). If you require any assistance, our support team will be happy to help you out.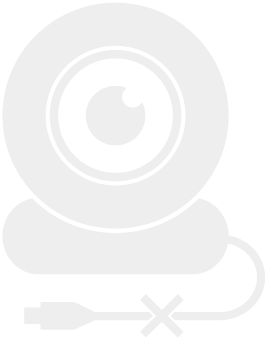 Performance Enhancements
In addition to the new features, we've worked hard on fixing over 20 bugs and on making the network significantly faster and stable. We're sure you'll notice the boost in performance right away.
We hope you enjoy the new features and we thank you again for all your feedback and support. Keep it coming!