Weather Webcam, Settings as Guest and Evapotranspiration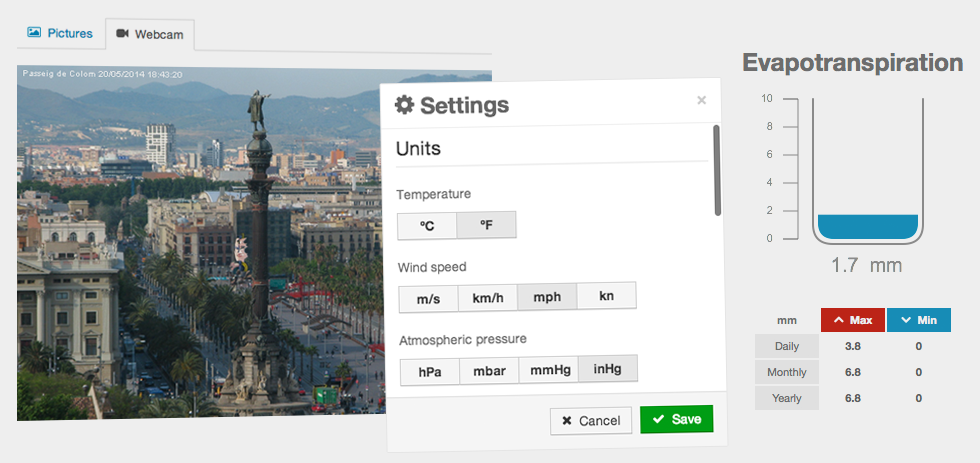 We start the week with yet another update! We've been listening to your feedback carefully and we've included two of the most requested features in this release: the ability to watch your weather webcam from Weathecloud and also to change units and regional settings as guest. In addition, we've added a new gauge for evapotranspiration. We hope you like these new features!
Weather Webcam
The ability to stream images from a webcam has been one of the most requested features from the beginning and we're happy to announce it has finally arrived! This is a fantastic way to look at the weather, especially the sky and clouds. If you have a weather webcam, you can now watch it from Weathercloud in seconds. Just go to the edit page of your device, paste the URL of your webcam and voila!

Change Settings as Guest
Another highly requested feature. It comes in handy in those occasions when you just want to take a quick look at the weather map, as it allows you to set your units, language and time zone without having to sign in each time. Likewise, it's also very useful for casual users who only want to check the current weather in local units without signing up to Weathercloud. The settings are stored permanently so that they don't have to be changed at every single visit.

New Gauge for Evapotranspiration
Last but not least, this update also adds a new gauge for evapotranspiration to all devices registering solar radiation. If this is your case, just make sure this variable is switched on in the Variables screen of your device.

Other minor bug fixes and improvements:
Added the Peet Bros Ultimeter 100, 800 and 2000 series to the device list.
Added Isle of Man to the country list.
Added (UTC+02:00) Helsinki to the time zone list.
Home page now available also in Russian.
Several performance enhancements.