Weathercloud Beta 4.3 Now Available!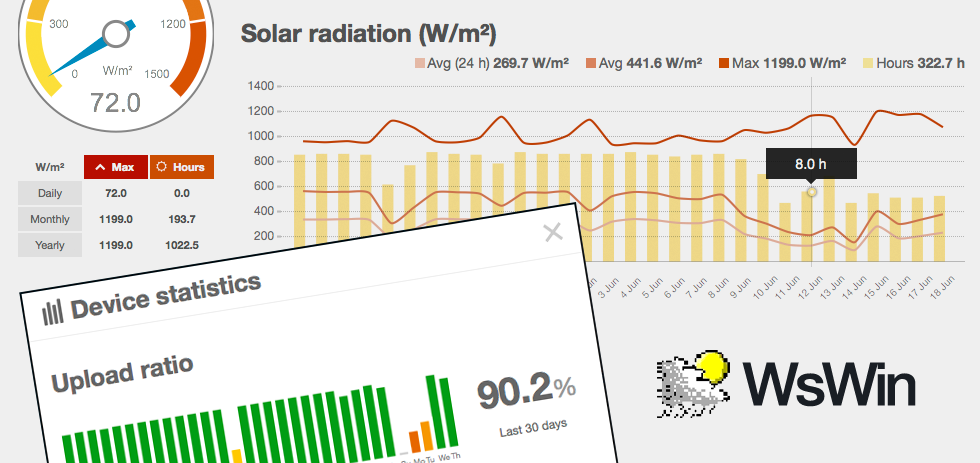 Shortly after the release of Beta 4.1, we're pleased to announce that Weathercloud has received yet another update! Beta 4.3 comes with some new features as well as many bug fixes and minor improvements for even better usability. Let's take a look at all the changes introduced in this version:
What's New in Beta 4.3
Device Statistics

This new feature is represented by a bar chart icon located next to the name of each device. Currently, it shows what we call upload ratio, which is the percentage of data transmissions successfully completed by a device in the last 30 days. If you put your mouse over a specific day, the upload ratio for that day will be displayed, otherwise you'll see the average for the whole 30-day period. We believe this is a great way to show if a device is reporting data regularly, and we're already working to add more statistics in the coming updates!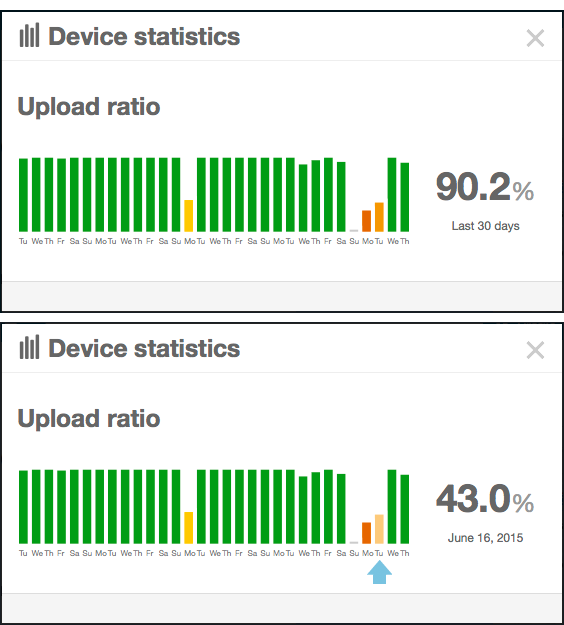 Sunshine Hours

The evolution graph for solar radiation now also displays the sunshine hours for each day of the last month. In addition to this, we've added the accumulated sunshine hours of the day, month and year to the solar radiation gauge. Be sure to check our FAQ page to learn more about how sunshine hours are computed.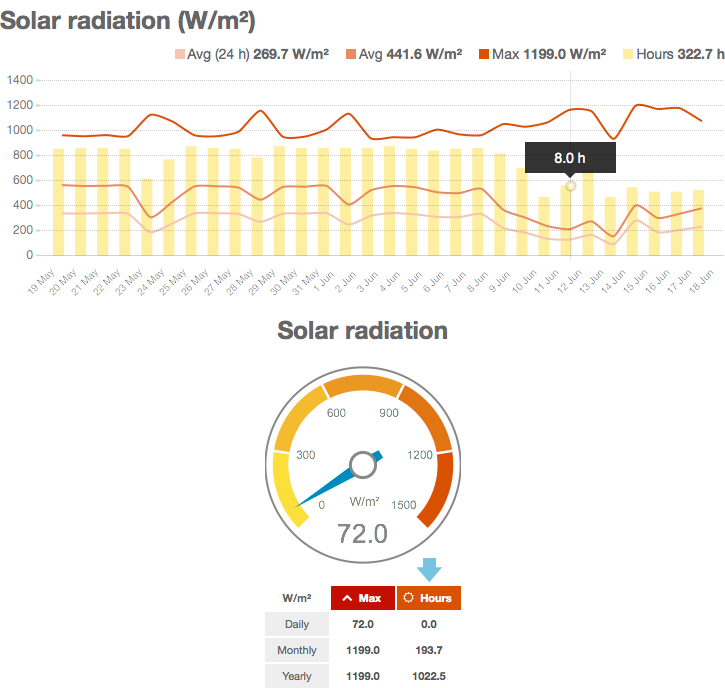 Compatibility with WsWin

Weathercloud is now also compatible with WsWin, a widely used weather software for Windows. With this addition, the number of supported third-party software rises to 11! A big thanks to Werner Krenn for his time and effort in helping us develop this feature.
Linking instructions for WsWin

Other minor bug fixes and improvements:
Added a loader to the weather map infoboxes.
Added a smarter time zone selector to the device creation page.
Added the ability to follow METAR devices.
Added the ability to search for businesses and landmarks on the weather map.
Added the ability to upgrade from a Vantage Pro/Pro2 to a Pro/Pro2 Plus.
Added the device name to the title of the browser tab.
Changed the date format to suit each country.
Changed the format for displaying the time of last update.
Changed 'Length' for 'Distance' in the units selector.
Changed UTC to device local time in Plots.
Fixed an issue that caused an error code to show instead of a dash for wrong database values.
Fixed an issue that prevented average wind direction from plotting properly.
Fixed an issue that prevented changing the map style.
Fixed an issue to properly display the infobox gauges in all measuring units.
Fixed an issue when opening the first infobox if located close to the map edges.
Fixed an issue with Comcast email addresses.
Fixed an issue with the password recovery page.
Reduced the font size of long device names in the Sticker so they fit in it.
Updated the FAQ page with new information.
More minor bug fixes and design improvements.
Performance enhancements.
We hope you like the new features and enhancements included in Beta 4.3, and look forward to hearing your thoughts on how we're doing so far. Also, feel free to share your ideas and suggestions for new features that you'd like to see on Weathercloud. Thanks!