Introducing Weathercloud 10
Weathercloud 10 is here!
We're thrilled to announce the release of Weathercloud 10, a major update packed with new features and enhancements so you can get even more out of your beloved weather network. We've been working hard to bring exciting new features based on your feedback and today you can finally enjoy them.
Here's an overview of what's new in this version:
Enhanced Plans
Weathercloud 10 introduces significant changes and improvements in the different plans:
The Free plan and the Business plan have been renamed as Basic and Premium respectively.
The Pro plan has been upgraded with unlimited cloud database. All Pro users can already enjoy this enhancement at no additional cost!
Added the new Plus plan as the starter paid plan with 60-month cloud database, editable records, ad-free browsing and several other features not available in the Basic plan.
Ability to upgrade to a higher plan or add additional devices to the current paid plan directly from the site without the need to contact Support.
30-day trial period available for any paid plan with the option to cancel at any time.

You can check out our redesigned Plans page for the complete list of features included in each plan. We are also happy to announce that we offer custom plans for users who require additional features not included in the standard plans. Do not hesitate to get in touch with us to let us know your weather monitoring needs.
---
Redesigned Settings Page
Probably the first thing you'll notice in Weathercloud 10 is that Devices is no longer displayed in the top menu bar. You will now find this element in the user drop-down menu above Settings, so that you can access both configuration pages from one place.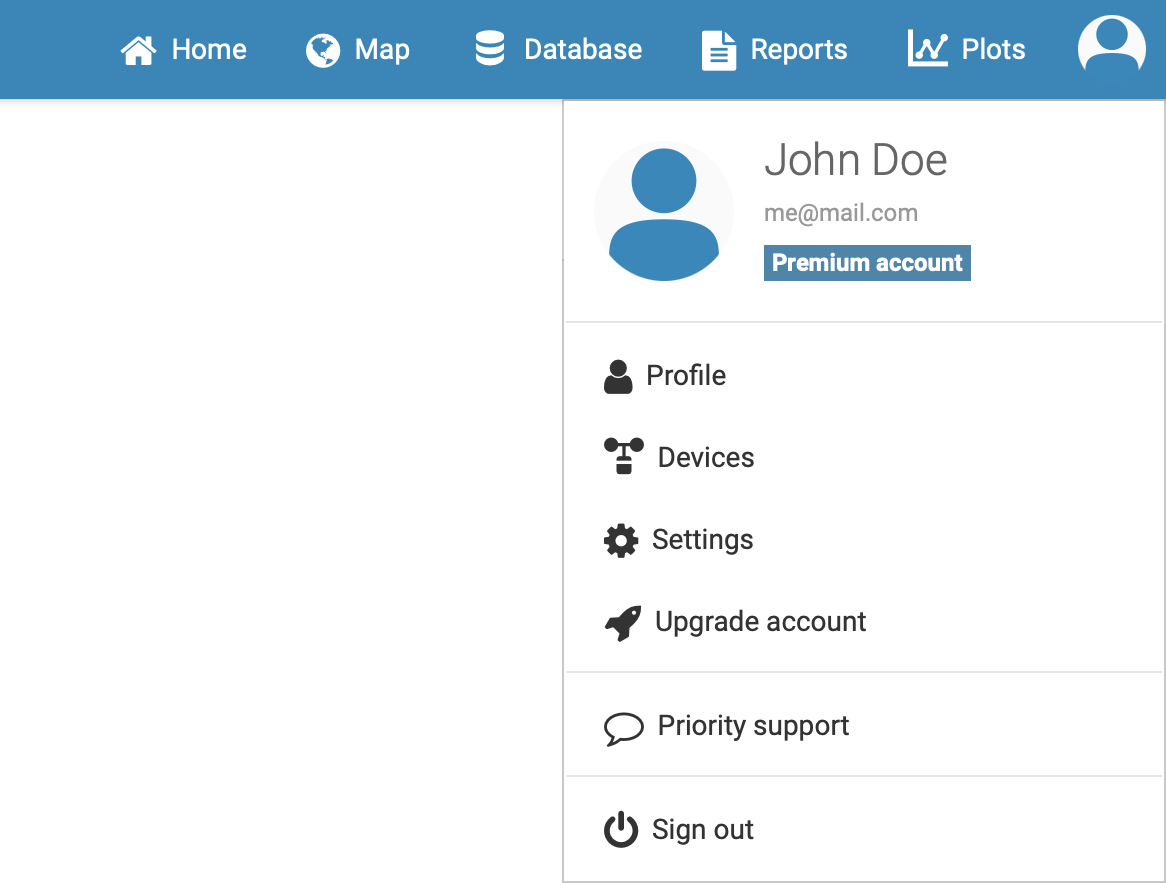 The Settings page has been completely redesigned. We've added 3 tabs called Profile, Account and Preferences to the upper right corner of the page to better organize all the information and configuration options. We've kept Profile in the user drop-down menu, but it now takes you to your public profile page instead of to the profile edit page.

Lets take a look at all the new features added to the Settings page:
Profile tab
We've added a new field called Category so that you can select the option that best describes you or your organization, depending on whether you are a private user or if the account you manage belongs to a company.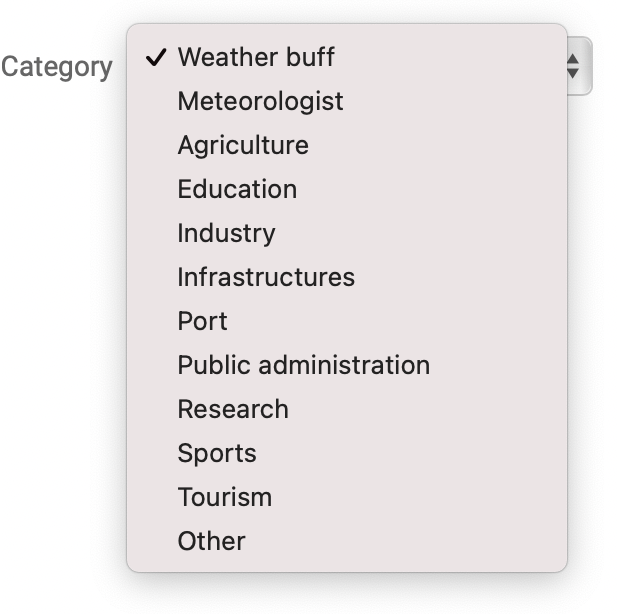 We highly encourage you to choose your category as we plan to add new map layers in the future based on this information. If your category is missing and you think it should be added to the list, please let us know.
On the other hand, the new Social Profiles section lets you add your Facebook, Twitter, YouTube, Instagram and LinkedIn profiles to your Weathercloud user profile.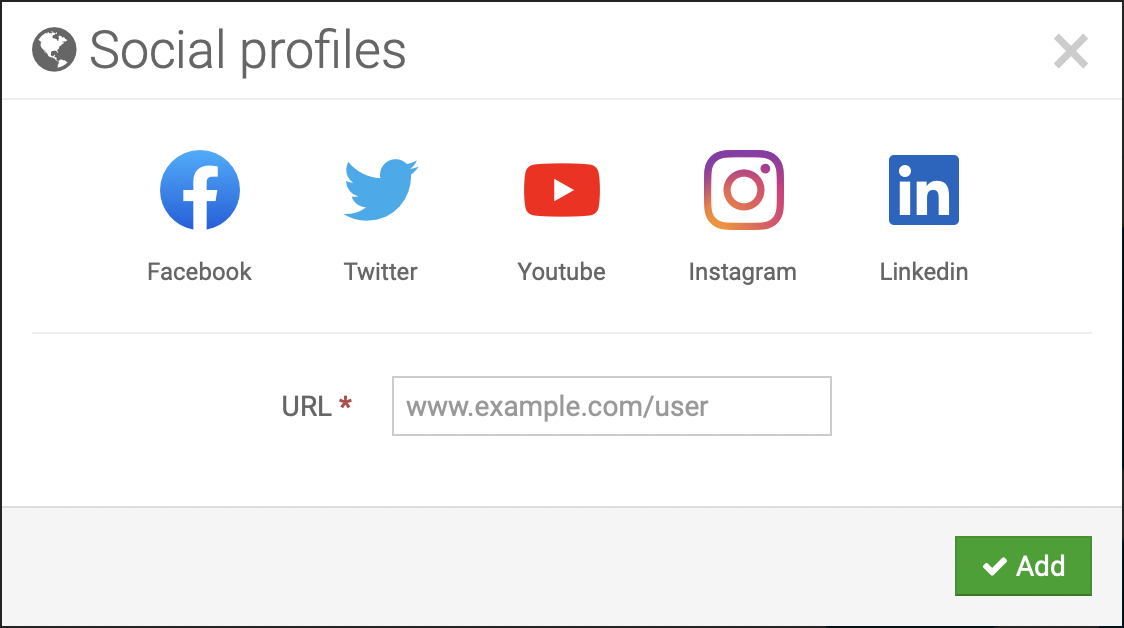 The social profiles you add will be displayed in the upper right corner of your user profile page to make it easier for other Weathercloud users to reach you on social media. We hope this new feature helps you grow your audience.

Another addition is the ability to crop the uploaded profile picture, so you no longer need to use a photo editing software. Now you can select the exact area that you want to display on your profile picture in an easy way.
Finally. if you are a Plus, Pro or Premium user, you will find a new Privacy section that lets you configure your user profile as private if you do not want it to be visible to other Weathercloud users. This configuration does not affect your devices, so they will remain visible to others if you have set them as public.

Account tab
You will find a new Email addresses section that allows you to add multiple verified email addresses to your Weathercloud account. You can then go to Preferences > Subscriptions to define if you want the device status notifications (device offline and device no longer shown on the Map) to be sent only to the primary email address or to all added email addresses. Basic, Plus, Pro and Premium users can add up to 3, 3, 5 and 15 email addresses respectively.
If you are a Pro or Premium user, you will also be able to set to which email addresses each of your custom weather alerts will be sent, as we explain later in Enhanced weather alerts.
In addition to email addresses, you can also add multiple Twitter profiles to your Weathercloud account and assign each of them to the specific device you want for the automatic tweets, as described later in Enhanced integration with Twitter.

---
Enhanced Device Gallery
We've made a couple improvements to the device gallery to make it better. Now you can choose the picture from your gallery that you want to show as a thumbnail for your device on the Home and Map pages. You no longer need to go through the tedious process of deleting all the pictures and re-uploading them in the correct order. In addition, if you prefer, you can set a webcam as a thumbnail instead of a picture. Just hover over the picture or webcam you like the most and click on the Thumbnail button. The selected item will be highlighted in a blue frame, as shown below:

We encourage you to upload at least one picture of your device as it is an excellent way to share your unique setup with other users of Weathercloud. If you have not yet added any picture of your device, you can do so easily by going to the Devices page and clicking on Edit gallery in the Settings drop-down menu (the cog icon).

---
Enhanced Integration with Twitter
Automatic posting to Twitter is without a doubt one of the most popular features of Weathercloud and this new release brings a couple improvements to make it even better. If you happen to manage multiple Twitter profiles, you'll be happy to know that you can now link all of them to your Weathercloud account from the Settings page and then assign each one to the specific device you want for the automatic tweets.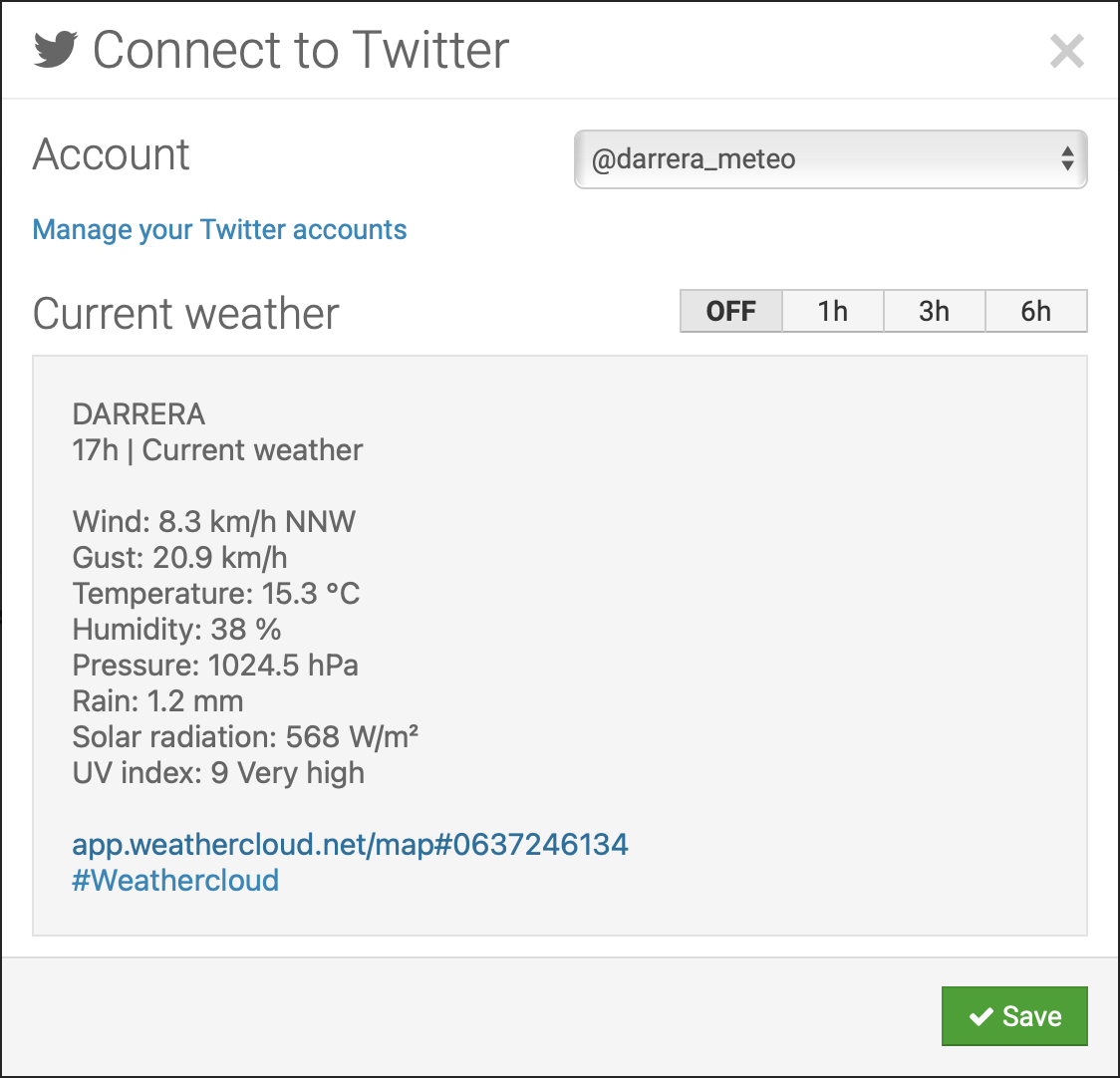 Besides the automatic tweets, if you are a Plus, Pro or Premium user, you can now tweet the current weather conditions at the precise moment you want. This feature comes in handy when you want to report a severe meteorological event that is taking place right now. To do so, you just need to click on the new Tweet now button on the upper right corner of your device page.

---
Enhanced Weather Alerts
This new release also brings the ability to share custom weather alerts with multiple contacts. If you are a Pro or Premium user, you can add several verified email addresses to your Weathercloud account from the Settings page and then subscribe each of them to specific weather alerts based on the needs. When an alert is triggered, all recipients will receive an email informing of the threshold that has been exceeded as well as the other weather conditions at that time.

We have also added a bell icon to the Devices page so you can see at a glance which of your devices currently have alerts configured.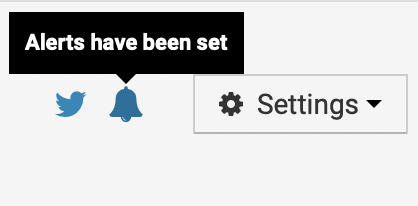 ---
New Annual Weather Report
Pro and Premium users can now download annual weather reports in PDF, in addition to the daily and monthly weather reports already available in previous versions. The new annual weather report shows the average, maximum, minimum and accumulated record for each month and is the easiest way to get a summary for the whole year.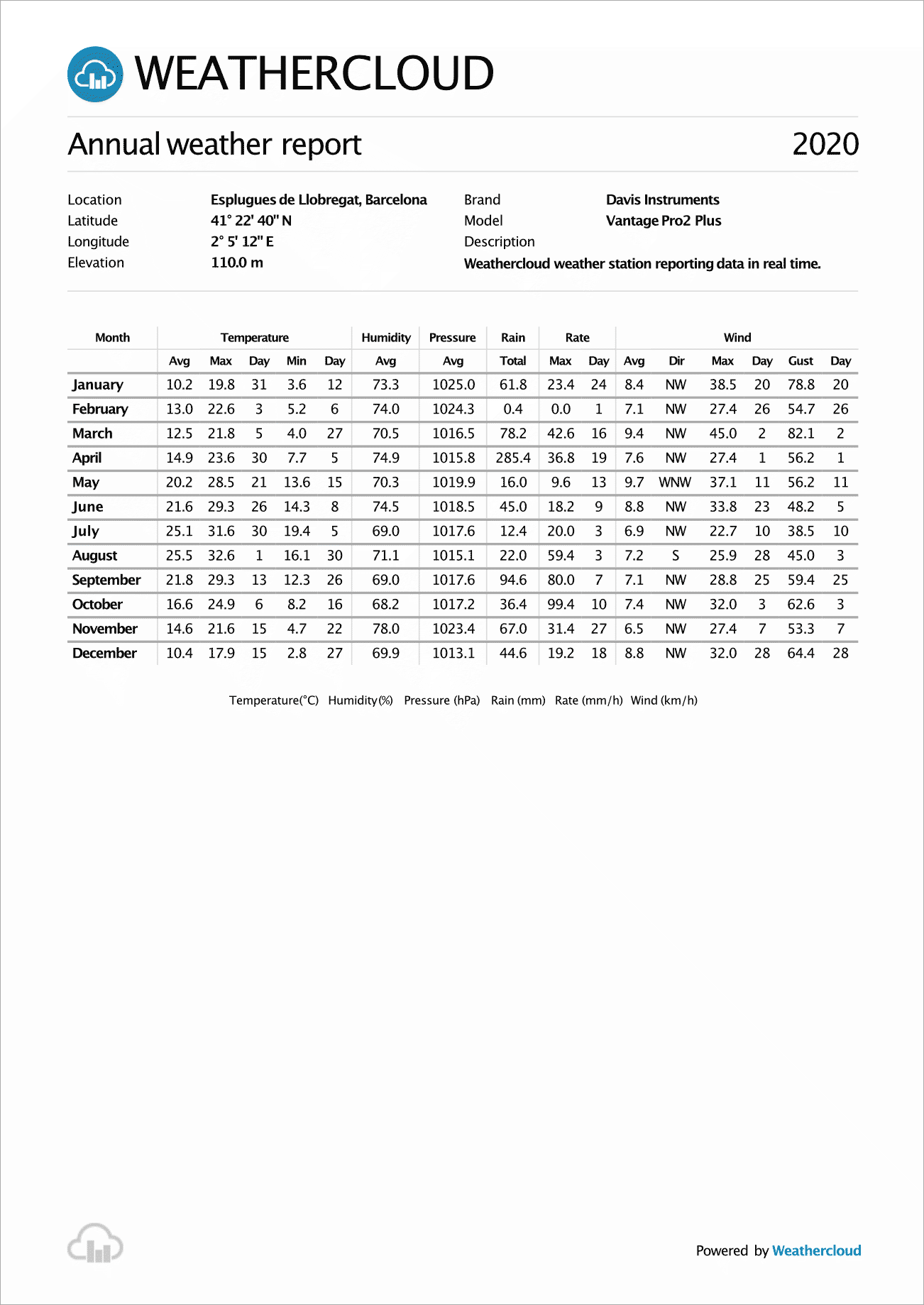 If you are a Pro or Premium user, you can download daily, monthly and annual reports in PDF by going to the Reports page from the top menu bar and clicking on the PDF tab in the upper right corner of the screen.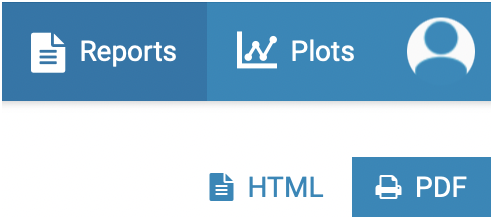 Once there, select the desired device, time frame and type of report. The newly added Report 2 includes solar radiation and ET.
---
Support for Additional Sensors
This has been one of the most requested features and we're very excited to finally roll it out in Weathercloud 10! If you're are a Pro or Premium user, you'll now find a new section called Tabs on your device configuration page. As the name suggests, this section allows you to enable/disable each of the different tabs on your public device page based on your needs, including the new Extra and Air quality tabs for the additional sensors.
The tab bar looks as shown below when all tabs are enabled:

Below is the complete list of additional sensors currently supported:
Extra tab:
1 x Temperature (temp02)
1 x Humidity (hum02)
1 x Soil temperature (tempagro)
1 x Soil moisture (soilmoist)
1 x Leaf wetness (leafwet)
Air quality tab:
1 x Air quality index (aqi)
1 x PM2.5 (pm25)
1 x PM10 (pm10)
1 x CO (co)
1 x NO2 (no2)
1 x SO2 (so2)
1 x O3 (o3)
Just keep in mind that your third-party weather software must implement these additional variables so that we can display them on Weathercloud. If you're a developer, feel free to get in touch and we'll be happy to help.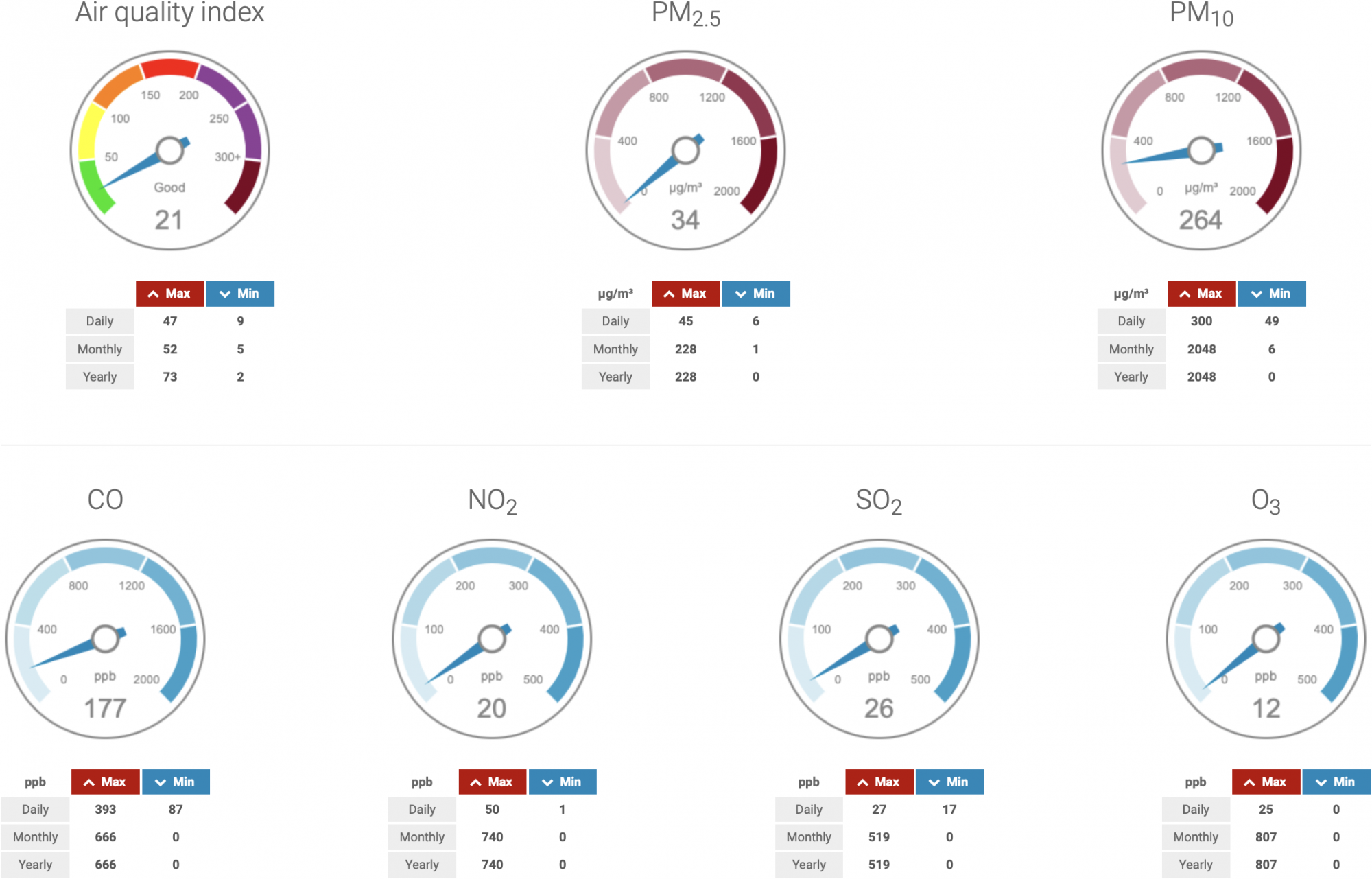 ---
Minor bug fixes and enhancements
The Weathercloud ID and KEY are now sent automatically to the user via email after registering a new station.
New icon for the layers button on the Map page.
The Wind layer on the Map page now also shows wind direction next to wind speed.
Temperature and inside temperature now have a different color on the custom plots to differentiate them better.
Added the cog icon to the upper right corner of the screen for direct access to Settings also when logged in.
Added the ability to share a device also on WhatsApp, Telegram, Reddit and LinkedIn.
Added the text Follows you to the profile page of the users who follow your stations.
Added the ability to keep your advanced weather dashboard visible even if your device is set as private.
Changed the wind direction indicator on the Present weather section of the device page for better understanding.
Wind gust is no longer averaged on the custom plots.
Wind speed is now also reported in cardinal direction on the evolution graph of wind direction.
Added the text Only you can view this data to the Inside data tab to clarify this information is not public.
Device is now translated as Appareil instead of Dispositif in French language.
Updated the FAQ page according to the new changes.
Improved connection instructions for Pro Weather Link.
We hope you like all the new features and enhancements included in this release as much as we do! Any feedback and suggestions are highly appreciated, so please feel free to leave a comment below.
Thank you for your continued support and stay tuned for much more to come!
Cheers,
Weathercloud
Follow us on social media